Body Composition Analysis
Our Latest Homecare Products
Free Nationwide Delivery in SA!
Get accurate and personalised results from the comfort of your home
Free Nationwide Delivery in SA!
InBody H20 measures full-body composition based on our professional devices. You'll get accurate and personalised results from the comfort of your home. Measurements are transferred to the InBody APP where you can monitor your progress, share your results and stay on track for your health goals.
Let's Explore The Technology
Utilising InBody's 4 core technology, the H20 measures Weight, Skeletal Muscle Mass, Body Fat Mass, BMI, Percent Body Fat, and Basal Metabolic Rate.
We are a global, industry leader in body composition technology. Our clients trust us to provide precise and accurate body composition data because they know InBody combines convenience, accuracy, and reproducibility in one easy-to-use device.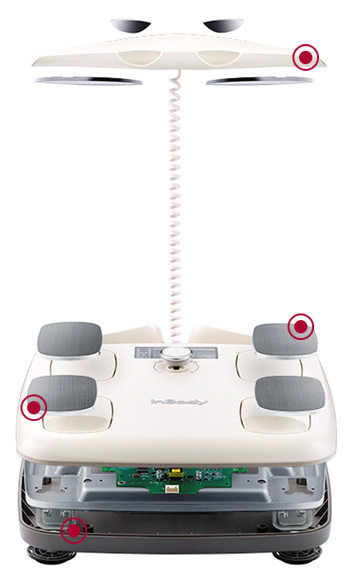 Our 8-Point tactile electrode technology, with patented thumb electrodes, improves the accuracy of the H20 tests by ensuring a secure and reproducible measurement starting point for each individual.
By connecting the H20 to the InBody App via Bluetooth, you will gain access to additional outputs and gain the ability to track your full test history along with InBody data from our other linked products.
Your Health in Your Hands
Your health is more than one number on the scale. With the InBody App*, you'll get access to comprehensive wellness data to help you understand whole body health, build segmental balance, and make healthy changes that will allow you to live well today, tomorrow, and for years to come. It's time to get reacquainted with your body.